Western Sonoma County Historical Society




West County Museum Presents




"Extraordinary Local Women Exhibit"
The West County Museum presents a collaboration of Sonoma County Museums with a look at some of the extraordinary women who contributed to our local communities in various ways.  Contributions from Bodega Bay, Cotati, Geyserville, Healdsburg, Petaluma, Guerneville, Sebastopol, and Windsor, with notable women from Santa Rosa, will fill our little showroom.  
Come and learn about the first woman doctor in Sebastopol, first Apple Blossom Queen to win Miss Apple Queen USA, the first woman mayor, city planner, and Sebastopol Times editor.  The first woman to vote in Sonoma County, the first Sonoma County council woman. Local historians, business woman and women in the military.
The exhibit opens December 5th and runs through March 15th.  There will be a Grand Opening on December 7th at 1 p.m. with a number of distinguished guests including Lynda Hopkins and Sebastopol Mayor Hinton will speak, along with highlighted individuals and family members of these women in the spotlight.
Blossoms, Votes and Floats
Apple Blossom Parade 2020
The Western Sonoma County Historical Society (WSCHS) is planning an entry for the Sebastopol 2020 Apple Blossom Parade, held on Saturday, April 18, 2020, and the Suffrage Movement is our theme.  We are looking for 50 men, women and children to walk the short five or six blocks, and to carry the signs, flags, and banners we are prov
iding the marchers. Our WSCHS volunteers from the Luther Burbank Experiment Farm and the West County Museum will participate in the parade, and we really want to make an impression with this parade entry.
  The Parade leader is a dramatic, historical woman-figure marching in front of our volunteers who are holding flags and signs and chanting to the crowd. We will also have 100 yellow roses to hand out to the crowd.
  We encourage participating walkers to wear all white, but we also welcome other period costumes. To represent the enormous contribution of the suffragette women who came before us, we plan some organized marching and scripted chanting.   Please sign up at Sign Up Genius (www.signupgenius.com) to reserve your spot for the Parade.  We will send you detailed information a week or two before the Parade, or you may contact us by email at wschs.historycorner@gmail.com
WSCHS Quarterly Meeting and Potluck Dinner- March 2nd
The next Quarterly Membership meeting of the Western Sonoma County Historical Society will take place on Monday March 2nd at The Epworthian Hall of Sebastopol United Methodist Church, 500 N Main St. As always, the evening will commence at 6pm with socializing and a potluck dinner. Following dinner, there will be a brief general membership meeting and then a special presentation, concluding between 8 and 8:30pm.
Michael Vonder Port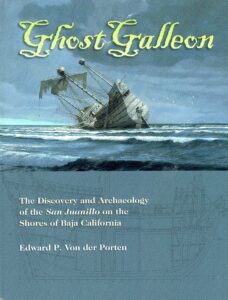 en will provide this special presentation regarding the Manila Galleon trade in California.
The Manila galleon trade opened the Pacific Ocean to European travelers starting in 1565.  Heading south along the coast of the Californias, these galleons became the first exposure of native peoples to Europeans.
Two Manila galleon wrecks have been known along the California coasts for centuries.  Twenty years ago, chance finds by beachcombers, linked by the galleon expertise of Edward Von der Porten led to the discovery of the earliest Manila galleon wreck on the coast.
Edward's son, Michael, and his wife, Elaine have participated in the expeditions to the site.  Mike will give a presentation on the Manila galleon trade and the story of the San Juanillo of 1578.
Copies of Ghost Galleon, the book about the wreck and its research will be available for purchase.
Elaine is our Corresponding Secretary and Mike & Elaine have been WSCHS members for many years.
Please plan to attend this very special evening. Everyone is welcome. Bring a friend, a potluck food item to share, and a table setting. Beverages will be provided.